Happy Memorial Day! You better believe I have coupons in hand and am hitting up Joanns/Michaels/Hobby Lobby! I'm also hoping for a little pool time, though I'm not sure the weather is going to cooperate. I hope you've been enjoying your long weekend. Adam and I went to see Iron Man 2 at the drive-ins on Saturday. It was perfect because we didn't even need a sitter. Rilo just slept the whole time! We're planning on going to the drive-ins throughout the summer!
Even though I didn't really need a TV stand, I saw this on Craigslist for $25 and had to have it. I think it will really tie the room together and make it feel complete. I had been using the ugly end table that the company provided but this will fit in better with the room. Plus, I think after we refinish it, we will be able to resell it for much more than $25.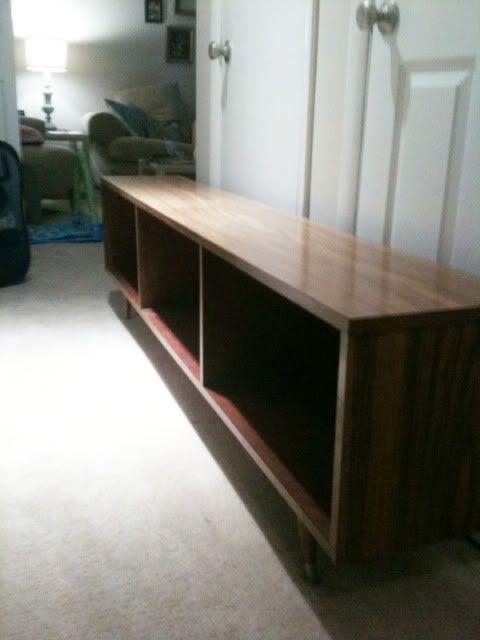 Sorry about the poor iPhone photo. I'll take a better "before" soon.
It's going to need a bit of work...It has some scratches on the top. Normally, I would paint this a fun color but for resale purposes, I think I'll go more neutral and do a chocolate brown. I'm even considering just staining it. I want to line the backs of the 3 shelves with some paper. Again, I'm thinking a bit more traditional than my normal style. I like these specialty/wrapping papers.
I'm liking the brown and gold options...They would tie in the gold in some of the frames hanging above the couch.
I'm about $30 away from reaching my $200 budget. I have all of my main pieces and most likely will use the rest on accessories!
It already feels homey...Adam and I are loving how much more comfortable we feel in the apartment!

(To read more about what I'm doing and why, click here)