I have been having the hardest time finding a rocker/glider for the nursery that is both modern AND affordable. I want something comfortable and something that will last. I imagine that beyond the whole late night nursing thing, I'll use this for storytime,etc. I have found several that I like, but just don't know if I love them! Here are few of my options: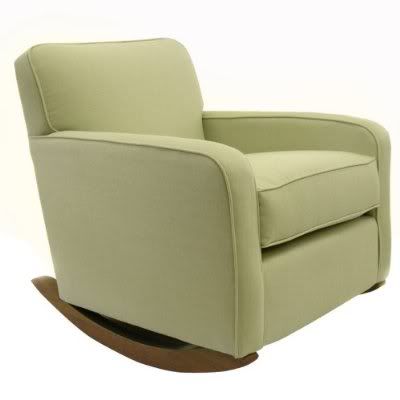 I actually do love this
green rocker
, but I
don't
love the price. I was almost sold on it because we have a pretty decent gift card for Amazon that would make this one in my target price range, BUT then I saw that shipping is an
extra
$133.00. Yikes! But I like the look of it, the colors goes well with the room and it looks roomy and comfortable.
This rocker is from
Walmart
. I like the brown with the white piping, but don't really like the shape of the chair. It does look like it has good support however. I also like Walmart's site-to-store shipping option (read: free)!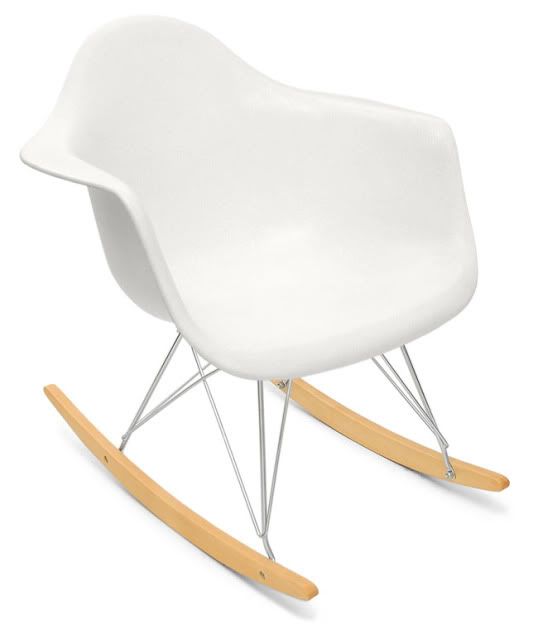 Now here is the typical
Eames rocker
that I see in a lot of nurseries on the web. I love the look of it! However, I hear mixed reviews on the comfort level. And I have no idea where I can try one out locally. Anyone have an idea for me?! There's also the debate on whether or not you should get a knock-off. Ummm...knock-off all the way. The original company doesn't even make them like they did back in the Eames era anyway.
Then there are the two Ikea options. I have yet to try and sit in these, but I have read reviews from people that really like
this
option. I would paint or stain the wood and probably cover the cushions so that would cost a little extra. But at such an affordable price, it might be worth it.
I like the look of this
one
. I would also paint or stain the wood and cover the cushions on this one. But I have heard that it's not really a rocker...as in, it barely moves.
I've thought about getting one off of KSL or Craigslist and then recovering it, but the cost to reupholster is
expensive
so I might as well just get a new one. I wish I could DIY, but I have never attempted upholstery and don't really see it going very well. I can sew, but this would be a whole other ballgame. If anyone has any other suggestions or has experience with any of the ones I listed above I would love to hear from you!