It's Monday...and still no baby! I can't say that I'm surprised. She has not been showing any signs of coming anytime soon. I'm still feeling great...antsy, but great. To keep myself busy, I have a bunch of little projects to do this week so I don't go crazy.
This weekend we tackled painting the bathroom. Remember this
inspiration board
?
After taking out the old sink, we discovered some really awesome 80's wallpaper. They apparently didn't care about removing it since the sink was going there.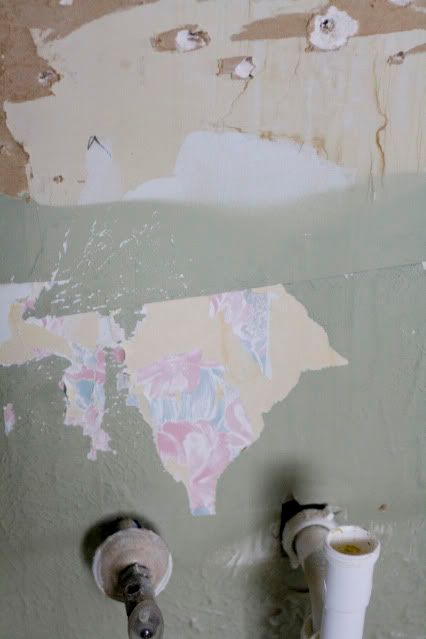 I wanted to paint the top half of the bathroom white and the lower portion a darker greyish shade of the aqua color called "Aqua Smoke" by Behr. Home Depot happens to be having a paint sale where Glidden paint is only $14.97 for a gallon. So I had them color match the Behr color using the Glidden paint. Well, let's just say it DID NOT TURN OUT. You can see for yourself.
Oh well for color matching!! I am
not
going for a child's Caribbean themed bathroom thank you very much. I was going for a calm, serene color. So today, I'm headed back to Home Depot to get the
right
color this time.