We are literally sooo close to finishing up the nursery (have you heard that same thing before?). But seriously, almost done! We are putting on all of the final touches and are waiting on our rug!
Now, we're on to our next project. I really didn't think we would tackle sprucing up our "master bath", but we've had some amazing deals fall into our hands, so I couldn't resist. I've been dreaming of fixing it up for quite some time and I'm excited that it's really happening. The major eye sore in the bathroom is the sink area. The sink's pipes are all exposed and there is no vanity. The mirror is blah and the light, ugh, I hate that light with a passion (it doesn't help that it's falling out of the wall). It's pretty much the only room we haven't painted so it's still that strange green color.
Some ugly before pictures: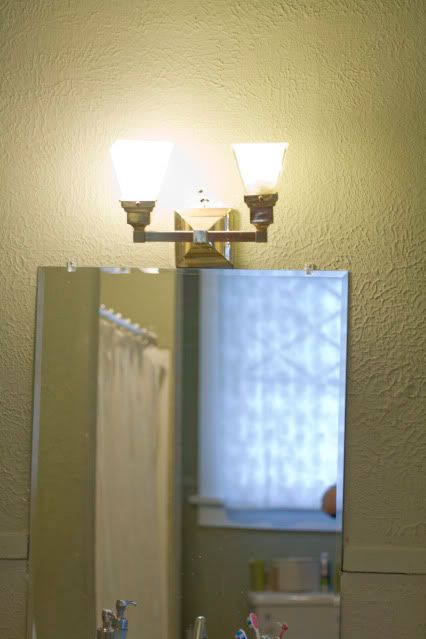 Here is an inspiration board with a breakdown of the expected costs:
1. The bathroom already has trim running at about a quarter of the way up the wall. We've decided to paint the top portion white (with leftover paint we already have) and the lower portion a light blue/green color called Water Mark from Behr. Coral will be our accent color. I had been looking at the coral fabric pictured online. The cheapest I found it was for $15 a yard. On a recent stop to Joann's, I found the
exact
fabric on clearance. I got 2.5 yards for $5!
Paint: $20
Fabric:$5
2. I'll be making 3 art prints to go above our towel rod. I already have extra frames I can use and I'll just print them at home.
Art: FREE
3. I found these
coral tea light holders
and
coral decor piece
on Amazon. We happen to have a gift card to Amazon (thanks Comcast).
Accessories: FREE
4. We already have nice white towels and an accent towel in the blue/green color. I want to order a coral print hand towel from Pottery Barn. We also have a gift card for Pottery Barn, so again, no cost!
Towels: $0
5. I found this
light
on Overstock for only $39.99. We have a code for free shipping. It's not the most exciting light ever, but it will look nice and get the job done. Plus anything is better than the hideous gold fixture currently falling off my wall.
Lighting: $39.99
6. A new mirror! The one we have right now, besides being boring, is
very
wide. Which as you may guess, makes
you
look
very
wide. Which isn't that fun when you're pregnant. I avoid that mirror like the plague. We lucked out at Home Depot and found a mirror for $19, yes really $19. All it needs is some white paint to disguise its fake gold rustic color.
Mirror: $19
7. Again, cashing in on our Amazon gift card, I found this
faucet
for $44.95 plus free shipping.
Faucet: $0
8. Now, HERE is the most exciting part, for us at least. Our bathroom is a weird T-shape. The sink is stuck at the top of the "T" in between 2 doors. This means that there is not a lot of room for a vanity or sink, without have to shimmy around it. Well, Home Depot had a vanity + sink combo that is the PERFECT size. It is not very deep, so we won't have to shimmy anymore,
but
the sink part is wider and actually has space for us to place things. And the best part of it all, it was on sale for $70! I can't find a picture of the one we actually bought, but the one pictured is very close, except our sink is more round and has more room on it. The one pictured is actually listed on Home Depot for over $400! Yikes! I'll be using the coral fabric to make a little curtain to hide the bottom shelf.
Vanity/Sink Combo: $70!!!
9. We already own the rugs, shower curtain and other bath accessories in the right colors so again, we're not spending money.
Other Accessories: $0.
Estimated Total Cost: $153.99
Pretty good I think, seeing as a vanity alone is usually more than that!