...I love dresses. I used to wear them every day in the summer! I'm always drawn to dresses online or in the store. You may have noticed from all the posts on dresses by now.
Today, I hopped over to one of
Cjane's
blogs, and saw she posted about
eShatki
. She mentioned they made completely customizable dresses. Sleeves/no sleeves, v-neck/round neck, shorter/longer, bigger here/smaller there...you get the idea. Well, that's neat and all, but all I could guess when I clicked the link was that I could not afford a $200 customized dress.
Except...I only saw 2 digits in the price.
Most of the dresses are between $39 and $59 dollars. What?! They do charge a $15 fee if you want to customize, but really?! A dress that could be made completely for me for less than $80. That's pretty good. Especially if you had a wedding or event to attend! Plus, they have tops, bottoms, accessories, etc. And it's all very cute. I think that I will pick out a dress to reward myself post-pregnancy.
Love this
yellow dress
.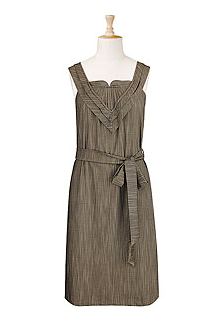 Maybe put an elbow lenth sleeve on this
one
?!
Or maybe even this
yellow one
?
Check it out
here.