When you come through our back door, you walk into a little mud room/laundry area. Up until recently, I had NO counter space in there. I just had a small shelf and the tops of my appliances. Boo! Young House Love gave me the great idea of putting a board on top of our washer and dry to create a nice surface. They went a few steps further and put blinds to hide shelving and even put some art. Looks nice, doesn't it?
Now, I haven't done anything that drastic (yet), but let me tell you, having this new counter space has been AMAZING. Having a place to put the basket and place to fold clothes...Heavenly.
To begin this simple project, Adam and I stopped by Lowe's and found a piece of wood, with the top covered in white laminate. The bottom of the piece was chipped, so Adam asked for a discount. We got the whole laminate board for $8. He then cut the board to fit in our space. We laid down a non-slip mat meant for a rug on top of the washer/dryer. (This protects your appliances as well as keeps your board in place). And ta-da! You have a nice counter space! I bought 2 small baskets for $5 to keep laundry supplies and Sawyer's treats/daily walk supplies.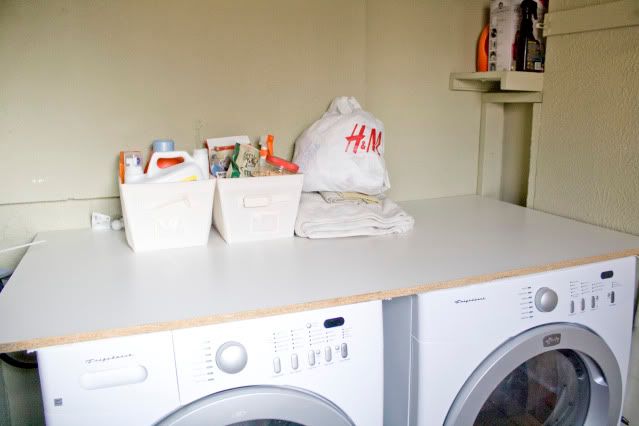 The bonus of this space? It's also great to work on larger scale projects. My craft desk isn't quite big enough for things like wrapping presents, so this space doubles as a craft area.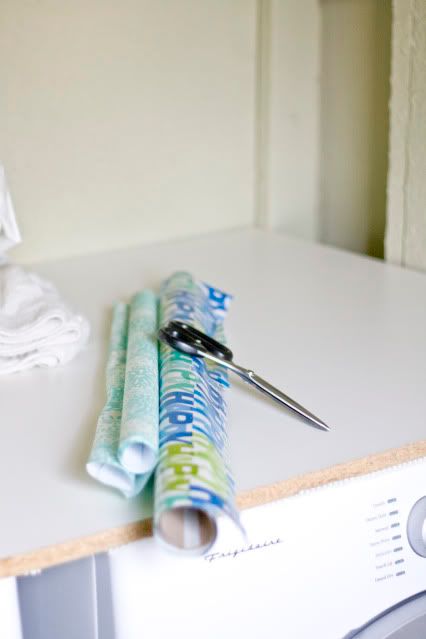 Next time we get out the white paint (hopefully when we start painting the bathroom, we'll paint that edge to give it a more finished look.
Have a happy weekend! I'll be posting our experience with the gutter shelves Monday!