Adam came up with the brilliant idea for our costumes a few months ago. We wanted to do something coordinated and while brainstorming, Adam thought of one of the super popular YouTube videos of the summer. If you haven't seen the
Double Rainbow video
, you can check it out
here
.
I picked up some felt, styrofoam and sequins and that was about it! We had everything else for the costumes so they ended up being pretty inexpensive. I can't believe I didn't take any of my own pictures of our costumes! Saturday we went to an adorable birthday party for sweet Olivia, followed by a fun party hosted by the fantastic Nicole. Here we are in dim light at Nicole's party: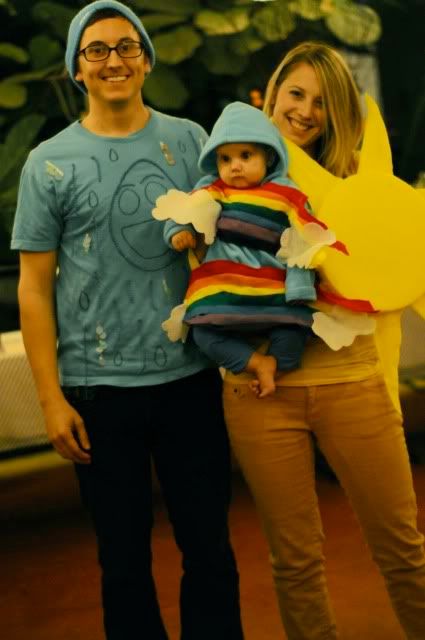 The sun, the rain and a double rainbow! What's funny is we ran into
Melissa
at the birthday party and saw her family's cute
double rainbow t-shirts
. Great minds think alike!
Adam and I were laughing because this was Adam's third time as a raindrop! Two years ago, we went as Rihanna and a raindrop (you know, standing under my umbrella...ella, ella. eh). The other time was in high school. In southern California students get together and create these elaborate airband perfomances. Adam's group was the triple crown winner and won states! The whole airband concept is pretty hilarious to me. It seems so fun but so much work! If you want a good laugh, watch the video below. (Adam is in the red during the "Rock You Like a Hurricane" segment and then later gets tossed in the air as a raindrop on the left)