Okay so "tomorrow" turned into a day later, but hey, I'm busy lovin' on a little lady.
This board was based off of the funky CB2 duvet cover.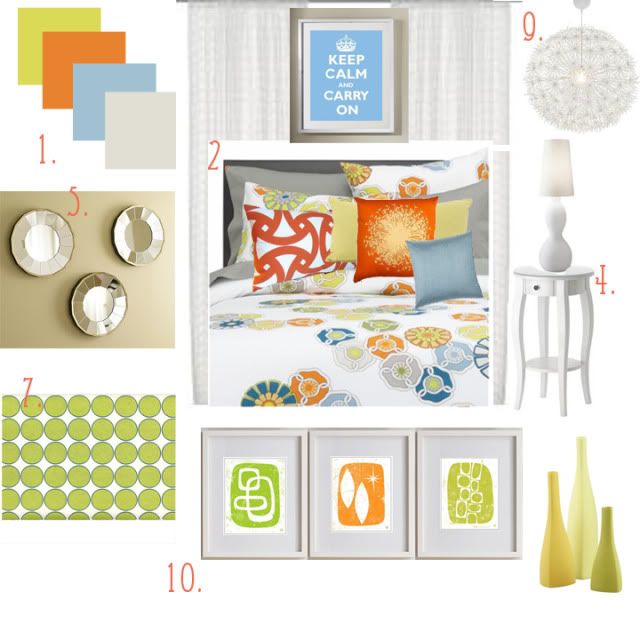 Option 2: Modern Fun
1. Colors/Theme- White, Accents of lime green, orange and a bit of dusty blue. I would leave the walls white or paint it the kind of sandy gray color found in the bedding. There's no real theme...just white, clean and modern.
2. Bedding- The
duvet cover
that inspired this room is from CB2. I would just do a white sheet set and throw in the punches of color with the pillows. All the pillows are again from Target, except for the
orange pattern one
...That's from Etsy.
3. Headboard- I have 2 other suggestions with pictures included. The first would be to use a
cube shaped bookshelf
and put it behind the bed (bonus: extra storage!). My other suggestion would be to fake a headboard by placing
2 rows of white frames
with art, fabric or paper in them.
4. Nightstands- The one pictured is from
Ikea
, but as I mentioned before, I found a similar one on
Amazon
for $13. Matching nightstands and lamps create balance. The lamps pictured are from
Ikea
, but any modern white lamp would work.
5. Mirror- The ones I have pictured are from
Pottery Barn
and are a bit of a splurge. I liked them though because they mimicked the shape found in the bedding. Again, I would place these in between the closets. I would just look around for mirrors that would coordinate if you don't want to spend $149 on mirrors!
6. Futon- Same as board #1, except I would do a white cover.
7. Desk- If it were me, I would paint the desk white or a fun funky color and add cool knobs. But since we're respecting Travis' wish, to modernize the desk I would do the paper/glass cover suggested in board #1. I included a fun green dotted wallpaper I found to give you an idea, but the paper is horrendously expensive so it's just an idea. Again, try to balance the desk with filing cabinets or modern white storage units on either side.
8. Exercise Bike- No changes here. My room divider idea still stands.
9. Lighting- Again, another light from
Ikea
...I love how modern and fun this light is. I think it would really jazz up the space.
10. Accessories- CB2 has some
cool green vases
that match the bedding. I would find white shelves and white framed art. I found these
funky prints
from an Etsy seller that would pick up on the bedding colors...these could go above the futon. For over the bed, I picked this
"Keep Calm and Carry On"
print. Again, the
Ikea cheap curtains
would be perfect in this room and a white rug or a cool graphic rug picking up on one of the colors in the bedding would look nice placed between the bed and futon.
I'm not sure what Alicia and Travis have decided, but I hope they will share pictures when they finish the room!
I've had several other inquiries about inspiration boards. I really love to do them so if you are at all interested, please send me an email at: jacqandmal@gmail.com and we'll see what we can come up with!