A few weeks ago, one of my best friends from high school asked me if I would do an inspiration board for her. Alicia and her fiance recently bought a cute new place together in my hometown in Pennsylvania. Even though she is still finishing up school in Virgina, they have begun working on decorating their new place. Alicia sent me pictures of their recently finished master bedroom. It has classic colors with some hints of modern. So when she asked me for an inspiration board for their guest bedroom, I decided to give her two: one a little more classic and one a bit more modern.
Alicia's only requests were simple. Her fiance's antique desk couldn't be changed, they wanted to be able to keep the exercise bike in there if possible, and they wanted a spot for the futon they had in the living room in case they had even more guests. Everything else could stay or go. The room is a great size and should have space for all the things she wants. Here is a before shot: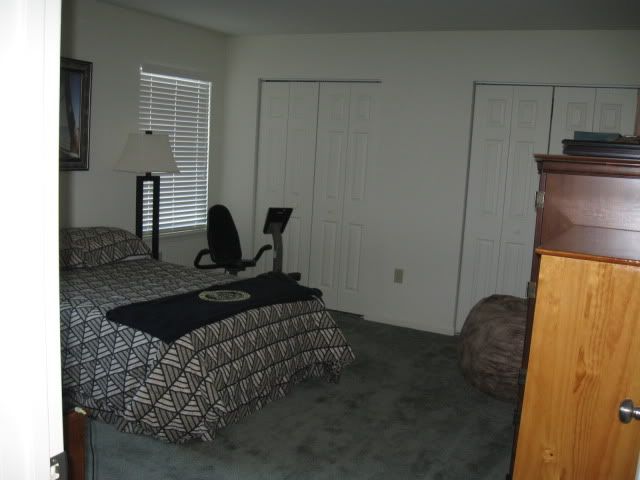 There is another window on the other side of the bed and the antique desk is to the left of this shot.

Today's inspiration board is the more classic one. I named it "Casual Beach". They already had a few beach items in there, so I went with that.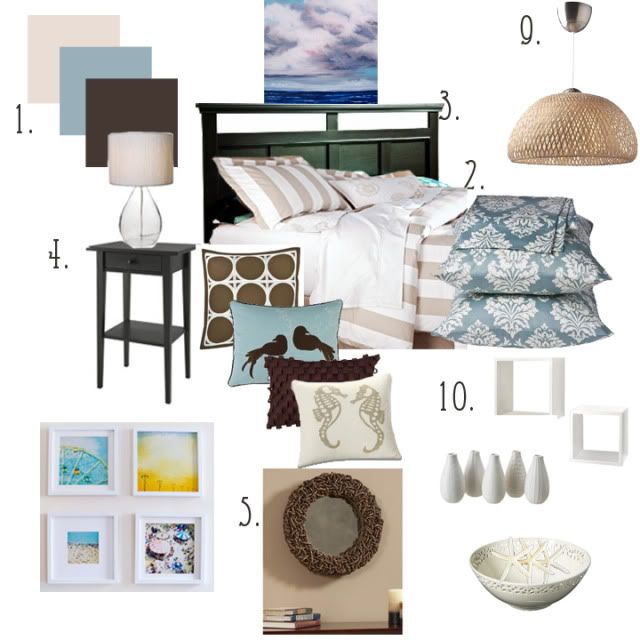 #3 and #4 have my favorite ideas for the room!


Option 1: Casual Beach
1. Colors/Theme - Cream/Tan, White, Cool Blue and hints of Chocolate Brown. I would paint the walls a nice light tan color. Nice and neutral and great for resale. Subtle hints of a beach vibe with small accessories without being too "themey".
2. Bedding- The bedding I found is from
Pottery Barn
. It's a striped tan and white duvet cover. Then I found a fun
damask blue she
et
set from Target. The pillows are all from Target, except for the
"sea" themed pillows
...those are from Pottery Barn. I liked the duvet cover, because it's pretty gender neutral for the male or female guests you have stay with you. Plus it's pretty classic and could be used even if you changed the room around.
3. Headboard-Okay, several ideas here. You could just purchase a headboard or find one on Craigslist. OR, my favorite idea for this room would be to find an old, white, distressed door. There are stores that just carry old doors. Turn the door sideways and mount as a headboard. I think that would be a really cool feature of the room and would feel beachy. If you can't find an old door, you can just pick up one at Home Depot and distress it by beating it up/sanding it. Here are two links to show you what I'm talking about (also shown below):
One
(this one is the is the right height for my liking, but not distressed enough) and
two
(this one is nice and distressed, but I think it's mounted up too high and they left the knob on which looks silly).
One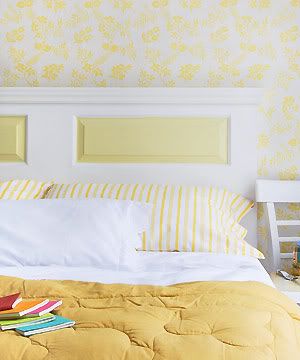 Two
4. Nightstands-The
nightstands
here are from Ikea and are supposed to be a brown/black color. I found a white
nightstand on Amazon
with good reviews for only $13 that I'm including on the other board, but you could easily use it for this room as well. I think they should be pretty small since the space between the windows isn't super large. Then I would suggest
2 matching lamps
with a clear, glass base that can be filled with things (this style is pretty popular right now, so you shouldn't have a hard time finding some like this). I've seen them all around: Target, Ikea, TJ Maxx, etc. I would fill the base with either sand or seashells.
5. Mirror- I would put a
mirror
in between the closets. This makes the room feel larger and will be a nice space filler. I would go with a chocolate brown frame or a white frame. I like the idea of a round shape, but a rectangle would work just as well. I find mirrors on Amazon, TJ Maxx or HomeGoods.
6. Futon-I would get rid of the dressers and place the futon centered along that wall. I would suggest finding a futon cover in a tan or chocolate color. I'm including this
link
to a random one online. If you're feeling crafty, you could sew one as well.
7. Desk- I know Travis said he didn't want to touch the desk, so I came up with an idea (for both boards actually) of a way to jazz it up and coordinate it with the room without permanently changing it. Find a wrapping paper or a wallpaper that matches with the room. Cut it to the size of the desk and place it on using double stick tape. Then lay a piece of glass over that so you have a nice workspace. I think that would coordinate it with the room. I see that the desk isn't very big, so maybe get 2 filing cabinets and place one on either side of the desk for more storage, but also to anchor and balance out the desk in that space. You can also add some white shelving above the desk for some extra space.
8. Exercise Bike-My suggestion, if you are wanting to keep it in the room would be to get a room divider, like this
one
, and place it in the corner next to the futon and closet. My other suggested space would be in the corner by the desk and window. It's hard for me to judge the space from the pictures, so you would have to play around with it. I think it might look better by the couch and closet. The one I found isn't too expensive, but if you guys are feeling adventurous, you can make your own divider using a tutorial like
this
.
9. Lighting- This
one
is from Ikea and I think the material looks light and beachy.
10. Accessories-
Seashells!
They can be placed in a white bowl or just scattered around, set on shelves, etc. Again, I wouldn't go too overboard, but some here and there would be nice. Then I would suggest any other little white accessories you have or find for cheap. Ikea has
little white vases
for a dollar or two that I have in my house. For art, I would seriously suggest checking out Etsy.com...you won't find a better selection for cheaper prices than there. You can search by color, theme, etc. I like the collection of pictures I found of
Coney Island
, but they're on the more expensive side of Etsy. But you don't even have to go with beach art, just any cool prints you find that you like would work. I would hang a large print above the
bed
. You can keep the one you have. If you kept it, I would paint the frame white. For curtains, Ikea has a nice
white set of panels
for $14.99. You can't get any cheaper than that! I would also suggest a small white rug or runner to place in between the bed and futon.
Tomorrow I'll share the second, more modern inspiration board.