We had the big party on Saturday and it went really well. There were about 5 million things I had planned on doing that I just ran out of time on, but I still thought it turned out fabulous. The party was mostly outside where the pool and the "Tiki Room"are located. The Tiki Room is already so well decorated, we didn't think the outside needed a whole let of decor. We kept the decorations mostly to the food table inside. We used the colors of their outdoor space as the jumping off point. We also were serving authentic Mexican food (50 lbs. of yummy carne asada + homemade tortillas!) so we also wanted to have a bit of Latin flair for the party. Here is the invitation as a refresher:
I thought that the bunting on the invitation looked similar to doilies. So I picked up some doilies from the dollar store and dyed them in food coloring. I think they looked really sweet. I dyed 50 of them but only had time to put up one little strand of them. I also made a quick birthday banner using scrapbook paper and ribbon. I hung different colored ribbon from the ceiling and made a few tissue poms as well.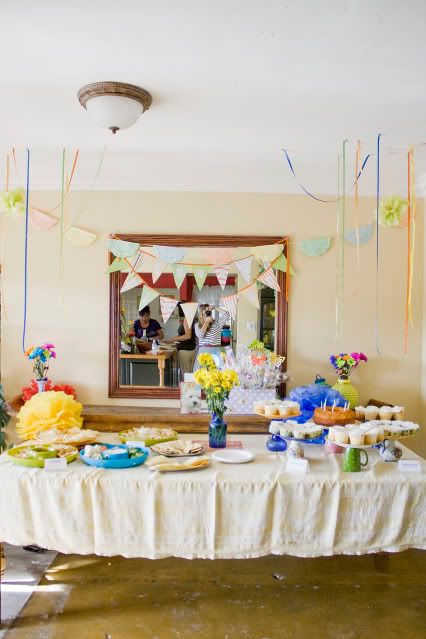 Martha and I went to the thrift store and picked up some vases and plates in our colors and style scheme. We then glued some of them together to create cake stands and used the rest as flower vases. I made two different kinds of cupcakes. I wish I would've taken a more detailed shot of the cupcakes. They were both delicious! The first was a Key Lime Coconut cupcake. I liked this one because it was so different from any cupcake I've ever had. Tart and limey! The recipe was from
here
. The other cupcakes we call "Heavenly Cheesecake" cupcakes. I got the recipe from my friend
Jess
. I had so many compliments on them. I will share the recipe sometime this week! They are out of this world yummy.
I had really wanted use doilies to put around the cupcake wrappers, as seen
here
, but again, I just ran out of time!
Martha suggested we use coolers for all the drinks. The coolers were pretty dingy and beat up though. My Dad and I were going to pick up some metal buckets to use instead. The buckets would have been around $20 each...pretty pricey for a party! Martha came up with a brilliant idea. We went to the thrift store and picked up some sheets that coordinated with her outdoor space. Then she created these awesome cooler covers! I seriously think this was the best idea of the whole party. So clever! And they look pretty cute too. I'll try and get a quick tutorial up this week. They were really fast to make and seriously look so much better than the yucky coolers. Plus they're removable and washable!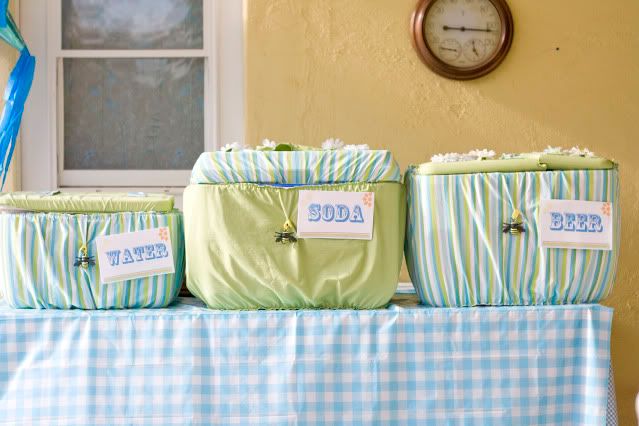 I was kind of all over the place trying to get things ready, visiting with people and entertaining Rilo so I didn't get as many photos as I wanted. I should have taken a picture of the fantastic food we served and of the awesome Tiki Room. I was also hoping to do a "photobooth" with sheet as the backdrop, but by the time I was ready to take the pictures it was dark. And since I've never once used my flash (I prefer natural light), I tried to take some pictures with the flash, and what do you know? It doesn't work! Photobooth FAIL.
But all-in-all, it was a success! So glad Rilo and I were there to celebrate with Martha and to see family!