My friend Katie asked if I could come up with some ideas for her bedroom. I love making inspiration boards, so of course I said yes! Here is a quick before picture of the bedroom:
(Thanks for modeling Mike!)
Katie wanted something clean and modern for her room. She is hoping to DIY a lot of things and keep most of their existing furniture in the room, but spruce it up a bit. She already has the great green patterned duvet from Ikea, so I used that as my jumping off point.
I found some inspiration rooms in that had a blue, green, white and cream color palette. The space is kind of dark, so I thought it would be best to keep it light and fresh using those colors.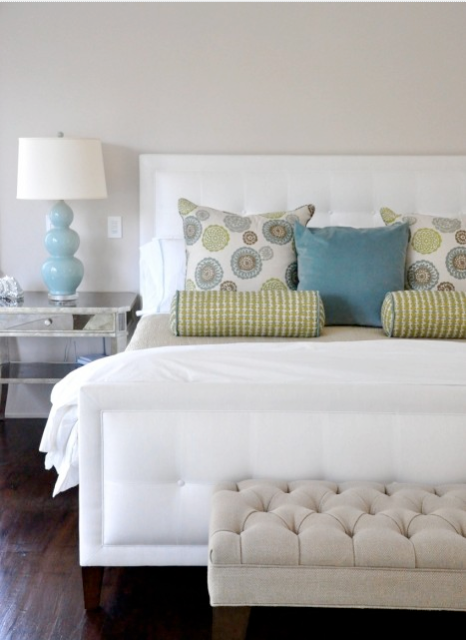 I suggested adding lots of pillows in fun patterns. Home Fabrics is great for really cheap home decorator fabric. I would paint the nightstands white and the lamps blue. I would also replace her lampshades for a more modern style. I thought it would be nice and classic if she upholstered the headboard in a cream linen fabric.
Katie has the Ikea Hopen dresser. The dresser has drawer fronts that are kind of frosted, so I thought it she could find a cool paper to line them with. I found this
one from Paper Source
that would coordinate. To balance the room a little better, since it has that offset window on the left, I suggested hanging curtains on either side. Then it would appear to have another window. Katie took some really great black and white photos in a photography class that I thought she could hang above her bed...or perhaps some cool prints or family photos.
I sent Katie some more ideas for the rest of the room but they are probably more relevant to her than to you! I'm sure Katie will let me show you some pictures of whatever she ends up doing to the room!
If you are interested in an inspiration board, send me an email at: briannajmwebb@gmail.com. I love doing these! Sometimes it's just nice to have a fresh pair of eyes look at your space!