I do love a good font and I love it even better when it's on a cute kids t-shirt. American Apparel is carrying these
alphabet shirts
in the beloved font Helvetica.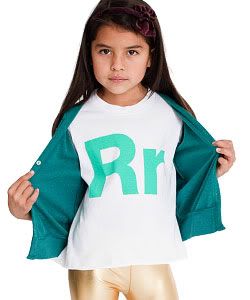 How fierce is this little girl in her gold spandex?
I promise you, there are good and bad fonts. And some realllly bad fonts. Poor font choice honestly makes me cringe. This is a
great post
on
Good Look Cookbook
(and
here
is another one) if you are needing some help discerning between a good and bad font! And you should probably spend the rest of your time on the
blog
because there are lots of great graphic design tips and tricks, plus tutorials and freebies. Such a great resource!
Edit: I just checked Design Sponge today and it looks like they are having a font day today! Check it out
here
.