I made
Oreo Bon Bon's
the other night for a party. It has been so long since I've made them and they are one of my favorite treats...especially around the holidays.
I got the recipe from a roommate of mine from Millersville, Andrea. Hi An, if you're reading this! She knew how much I
loved
Oreos (I used to eat a pack every few days. Gross, I know), so she made these for me during our goodbye dinner before I transferred out to BYU. They are rich and delicious, and even I have a hard time eating more than 1 or 2...but they are worth it!
I decided to try taking step-by-step pictures...not that this recipe is hard or anything, but I always like the sites where I can see what is going on, like Pioneer Woman or Bakerella. If you don't want to read my really awesome commentary, go ahead and scroll to the bottom of this post, and I'll have the recipe there for you to look at.
Here are the ingredients you need:
Double-Stuf Oreos (why you would get the regular ones is beyond me), a stick of Cream Cheese (8oz.), Vanilla, 1lb of Powdered Sugar and Instant Nonfat Dry Milk (ew). As you can see, I got the good brands of Oreos and Cream Cheese, but I don't think the other ingredients matter. Besides, what else do you use Nonfat Dry Milk for?!
First, you want to open the Oreos and set aside 12. You are going to grind these 12 into a powdery crumb-like state. I used the food processor part of my blender for this. If you are a poor college student, like I was when I first made these, you can place them in a Ziploc bag and stomp on them and smash them with a rolling pin. It's a great way to get out any aggression you may have. It should end up looking like this.
Then, you're going to take the rest of the Oreos and chop them into smaller pieces. The size is really up to you. I put a piece of foil on my cutting board for less mess (and to be used later).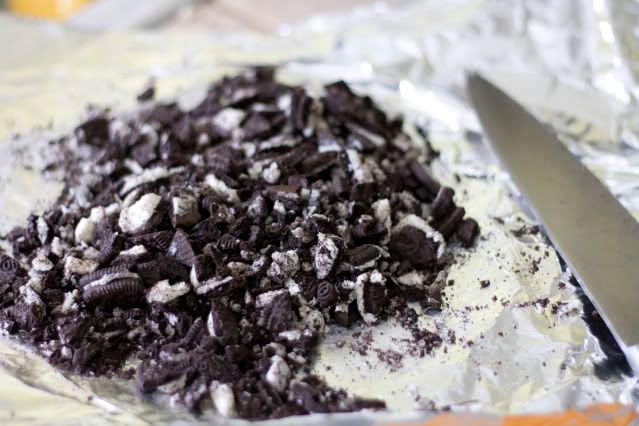 Now, set both of your Oreo piles aside. For this next part, you will need some sort of mixer. A hand mixer will do in this case, or your trusty KitchenAid. Let's pause for a minute and marvel at my beautiful early Christmas present from Adam.
Aahhh, I'm in love. I've only been asking for one since my freshmen year of college and now it's finally mine! Anyway, back to the recipe. Throw in your stick of cream cheese.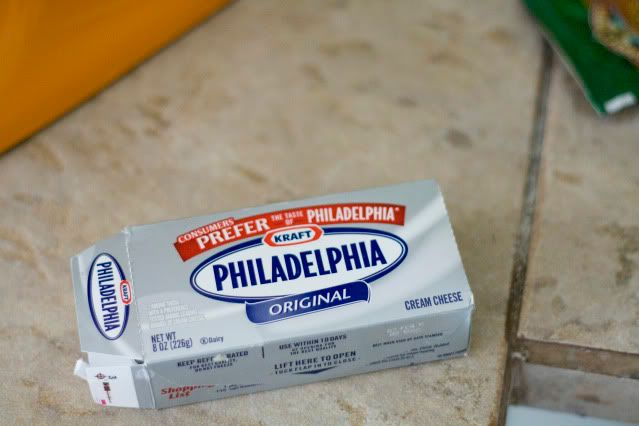 Add 1 teaspoon of vanilla.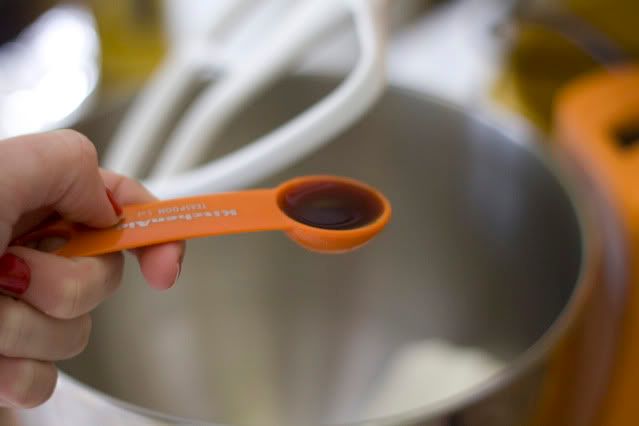 And 1 cup of that yummy looking nonfat dry milk.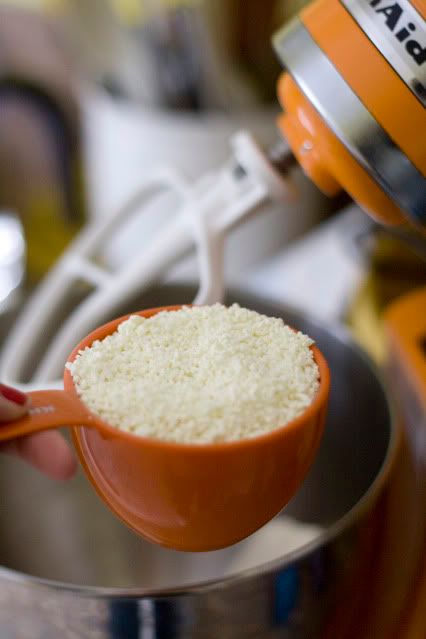 Then run your mixer until its nice and creamy. And don't try any just yet. Believe me when I say,
it's not good
.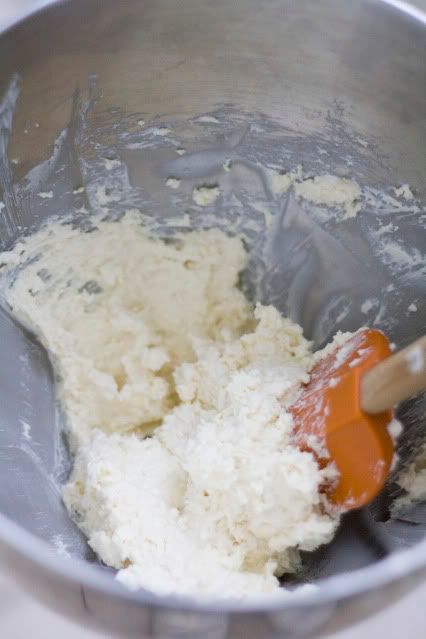 Next, you're going to slowly add in your powdered sugar, one cup at a time, letting it mix as you go, until you've added the whole 1 pound of it! It'll look something like this.
Now, you need the Oreos that you chopped into chunky pieces. You're going to mix those in until it looks like Oreo ice cream.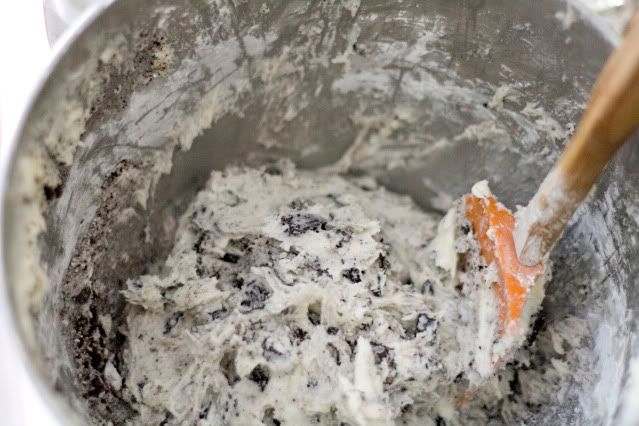 Here's where you can use that piece of foil from earlier. Throw it over the bowl and place it in the fridge for about 2 hours so it gets nice and firm. This is essential, or as my Mom's husband Cyle said "it just tastes like raw dough". Trust me here, it just needs to set a little.
After it's had time in the fridge to chill, take it out and shape them into bite sized balls. They're pretty rich, so you don't want them to be too big. Grab the Oreo powdery dust, and roll each bon bon until they're completely coated with the crumbs.
There you have it! Delicious Oreo Bon Bons! I think they're best served when they're still a bit cold. The recipe makes a lot more than what is pictured, but I saved these ones for us and took the rest to the party!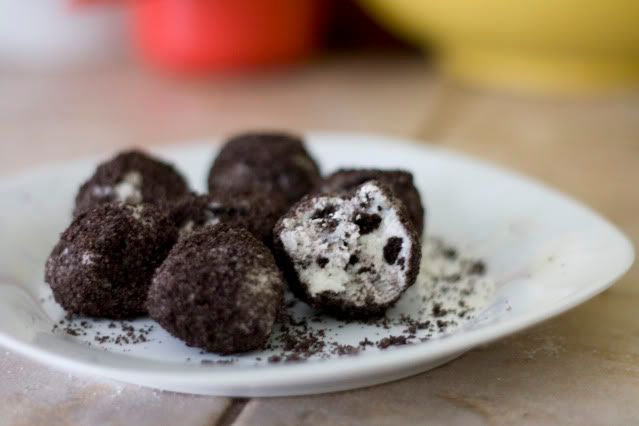 I promise they will be a hit! My Mom, after hearing Cyle's remarks (see above) when he prematurely tasted them, decided not to take them to her cookie exchange party. After they had set in the fridge, she finished making them and left them for the kids and their friends. Well, my sister Tali took them to her basketball practice and they were gone lickety-split! My Mom had many requests for the recipe from Tali's friends! I also won the Golden Spatula award at a ward baking contest with these bad boys!
Hope you enjoy!
Oreo Bon Bons
1 package Oreo's, divided
1 (8 oz) pkg cream cheese, softened
1 cup nonfat dry milk powder
1 tsp pure vanilla extract
1 lb (16 oz) powdered sugar
Grind 12 Oreos to crumbs (if you don't have a food processor, just put them in a Ziploc bag and stomp on them or use a rolling pin); Coarsely chop 12 Oreo's. Set both aside.
On med speed, beat cream cheese, milk powder & vanilla until smooth. On low speed, beat in powdered sugar, 1 cup at a time. Stir in chopped
cookies
. Cover; chill 2 hrs. Shape by tablespoonfuls into balls; roll in ground cookie crumbs.